Pilates Exercises Central Coast
If you are looking for a place to perform your pilates exercises Central Coast, Excelsia Studio's is the place for you. Located in the industry ground, next to Erina Fair Shopping Centre, Excelsia Studios offers premium reformer pilates classes that offer a wide range of exercises for all fitness levels.
Pilates exercises are specifically done to increase fitness, strength, flexibility and even help with weight loss.
Excelsia Studios is run by local owner Nilzen, who believes in nourishing your whole body through healthy food, wellness and exercise. She lives and breathes pilates, so you know that she is the expert in a variety of pilates exercises and forms. Nilzen is also the owner of the raw vegan desserts business – Raw By Hara! 
The pilates classes here aren't your regular pilates classes, as they incorporate the use of reformer machines to give you a full-body workout, with intense and fun Pilates exercises! Come give it a go – we promise you won't regret it!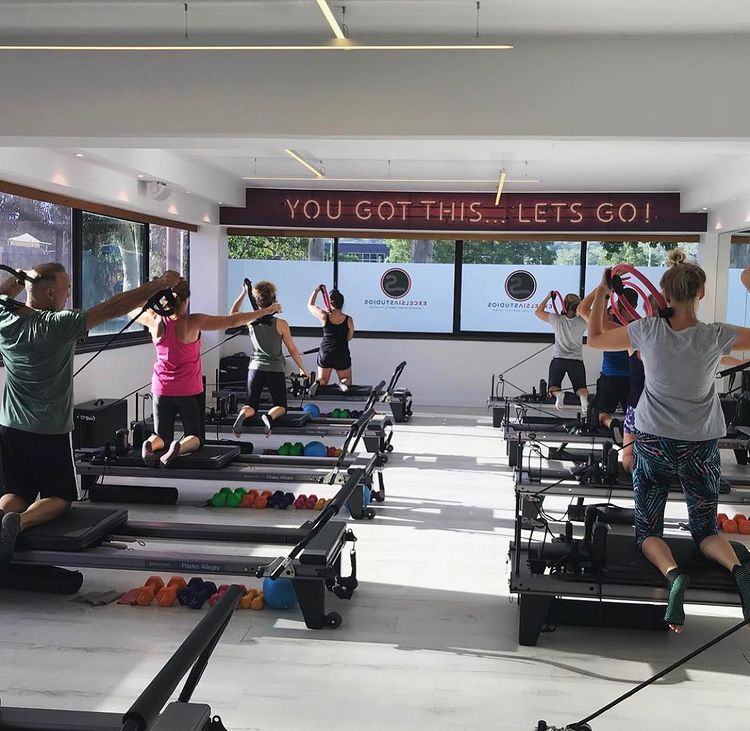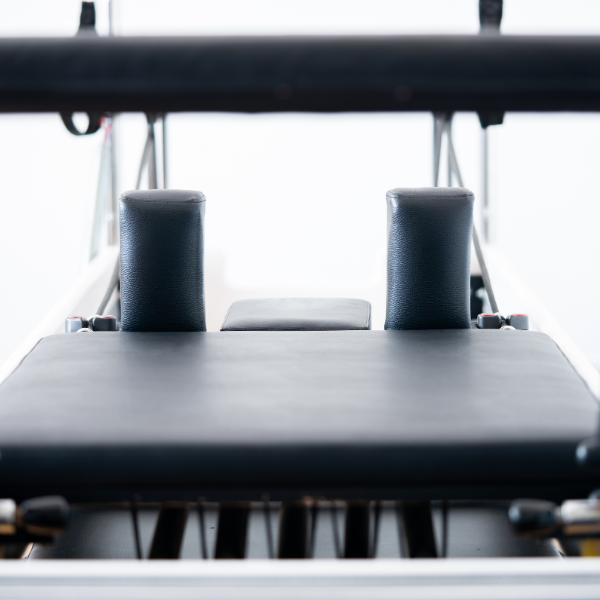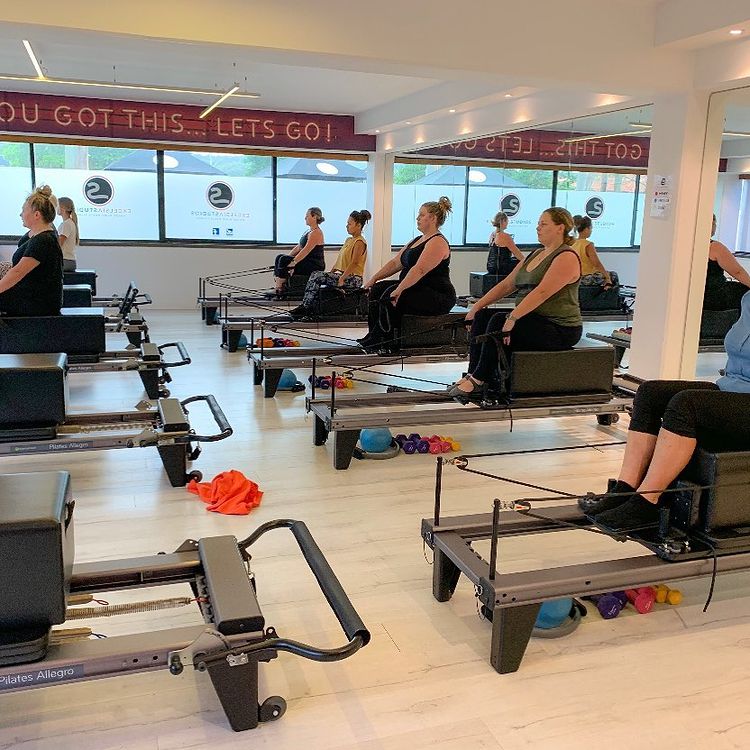 Reformer Pilates Exercises Central Coast
At Excelsia Studios expect the Ferrari of reformer machines, music that will have you hyped for days and the most passionate and motivating instructors to bring you next-level workouts and a new generation of fitness.
Our innovative classes incorporate dynamically choreographed high intensity, body burning, soul strengthening workouts leaving you with perfect tone, strength and power to perform at your peak. Every class will challenge you and the pilates exercises will leave you feeling amazing.
The Benefits of Pilates Exercises
Regularly doing pilates exercises can work wonders for your mind, body and soul. Some of the main benefits and why we love pilates so much include:
Works out the whole body

Any age or fitness level can give it a go, as it is adaptable.

Increased muscle strength

Increased core strength

Improve posture

Overall weight loss

Can be combined with other exercises and fitness routines

Improved flexibility

Rehabilitation and prevention of injuries

Stress management and relaxation

Improved stabilisation of your spine
What are Reformer Pilates Exercises? 
It can all be a bit confusing, especially if you are starting out! Every class is different, and because at Excelsia Studio's we utilise reformer machines, the pilates exercises we do are slightly different from those you would do at a regular pilates studio. Generally speaking – pilates exercises done with a reformer machine are more intense and dynamic than the traditional ones performed on a mat. This is due to the machine adding an extra level of resistance through the springs and cables of the machine. 
Some people (especially us) believe that reformer pilates is superior to mat-based pilates exercises because it greatly increases the variety of exercises you can do and your range of motion. 
Reformer Pilates exercises are also great for individuals who need rehabilitation after an injury or issue, as it allows them to do them in a horizontal position and not load any weight in the legs. 
Reformer Pilates exercises may look a bit intimidating – but trust us – anyone can do it and once you do, you won't want to stop!
Pilates Exercise Classes Central Coast
At Excelsia Studios, we believe in offering a variety of pilates classes to suit all different fitness levels, lifestyles and ages. Here is a rundown of the Pilates classes we offer:
Connect

FreeStyle

Jump Around

Mums and Bubs Pilates Class

Pump It UP!

Stretch & Core

Stretch & Strength

Tech-Nique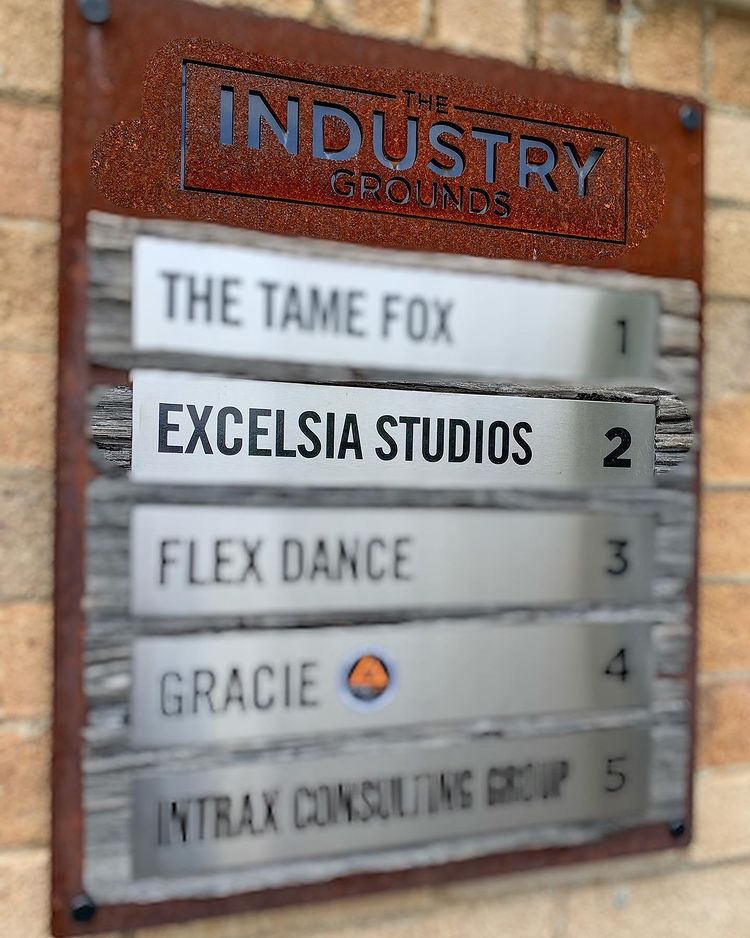 Pilates Exercises Central Coast – Excelsia Studios
If you are looking for a Central Coast Pilates Studio, Excelsia is the best. We offer a variety of classes that incorporate different levels of Pilates exercises to suit everyone, from new mums, advanced pilates enthusiasts, beginners, individuals recovering from injuries and cardio lovers. 
The classes at Excelsia Studios are extremely affordable, and we have options for those who just want to give it a try and athlete programs. We run classes morning and night to suit your lifestyle and our energetic and friendly instructors are here to help you with your body and fitness goals. If you are in need of or want to try some Pilates exercises Central Coast, Check us out today!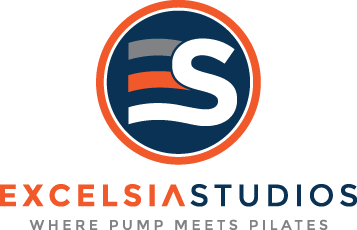 Alison
Arcadia vale
Avoca
Avoca Beach
Awaba
Bar Point
Bateau Bay
Bensville
Berkeley Vale
Blackwall
Blue Bay
Blue Haven
Booker Bay
Bouddi
Budgewoi
Budgewoi Peninsula
Buff Point
Bushells Ridge
Calga
Canton Beach
Cedar Brush Creek
Central Mangrove
Chain Valley Bay
Charmhaven
Cheero Point
Chittaway Bay
Chittaway Point
Cogra Bay
Colongra
Copacabana
Crangan Bay
Daleys Point
Daniel Island
DavistownToukley
Tuggerah
Tuggerawong
Tumbi Umbi
Umina Beach
Upper Mangrove
Wadalba
Wagstaffe
Wallarah
Wamberal
Warnervale
Watanobbi
Wendoree Park
West Gosford
Wondabyne
Woongarrah
Dooralong
Doyalson
Doyalson North
Durren Durren
East Gosford
Empire Bay
Erina
Erina Heights
Ettalong Beach
Forresters Beach
Fountaindale
Glenning Valley
Glenworth Valley
Gorokan
Gosford
Green Point
Greengrove
Gunderman
Gwandalan
Halekulani
Halloran
Hamlyn Terrace
Hardys Bay
Holgate
Horsfield Bay
Jilliby
Kangy Angy
Kanwal
Kariong
Kiar
Killarney Vale
Killcare
Killcare Heights
Kincumber
Kincumber South
Mooney Mooney Creek
Mount Elliot
Mount White
Narara
Niagara Park
Norah Head
Noraville
North Avoca
North Gosford
Ourimbah
Palm Grove
Palmdale
Patonga
Pearl Beach
Peats Ridge
Phegans Bay
Picketts Valley
Point Clare
Point Frederick
Pretty Beach
Ravensdale
Rocky Point
San Remo
Saratoga
Shelly Beach
Somersby
Spencer
Springfield
St Huberts Island
Summerland Point
Tacoma
Tacoma South
Tascott
Terrigal
The Entrance
The Entrance North
Toowoon Bay
Woy Woy
Woy Woy Bay
Wyee
Wyee Point
Wyoming
Wyong
Wyong Creek
Wyongah