Reformer Pilates Central Coast
At Excelsia Studios we focus on reformer pilates for Central Coast residents.
Our philosophy is to motivate you while burning calories and toning your body. We want all our clients to walk away from a class hyped, inspired and feeling amazing and strong from the inside out.
Reformer Pilates is similar to mat-based but very different as it is done using the Pilates reformer machine. The exercises are more intense using the reformer machine and is generally more dynamic than mat based, as it adds resistance to the pilates exercises via the use of the springs which form part of the machine.
Reformer Pilates is superior to mat based pilates because you have much more of a variety in the exercise that can be performed. All our exercises work each muscle group through a large range of movements which is ideal for building and toning muscles as well as increasing stability through the joints.
Reformer Pilates works more areas of the body than mat work, as mat work is mostly core whereas reformer works the entire body and more the peripheral muscles of the arms and legs.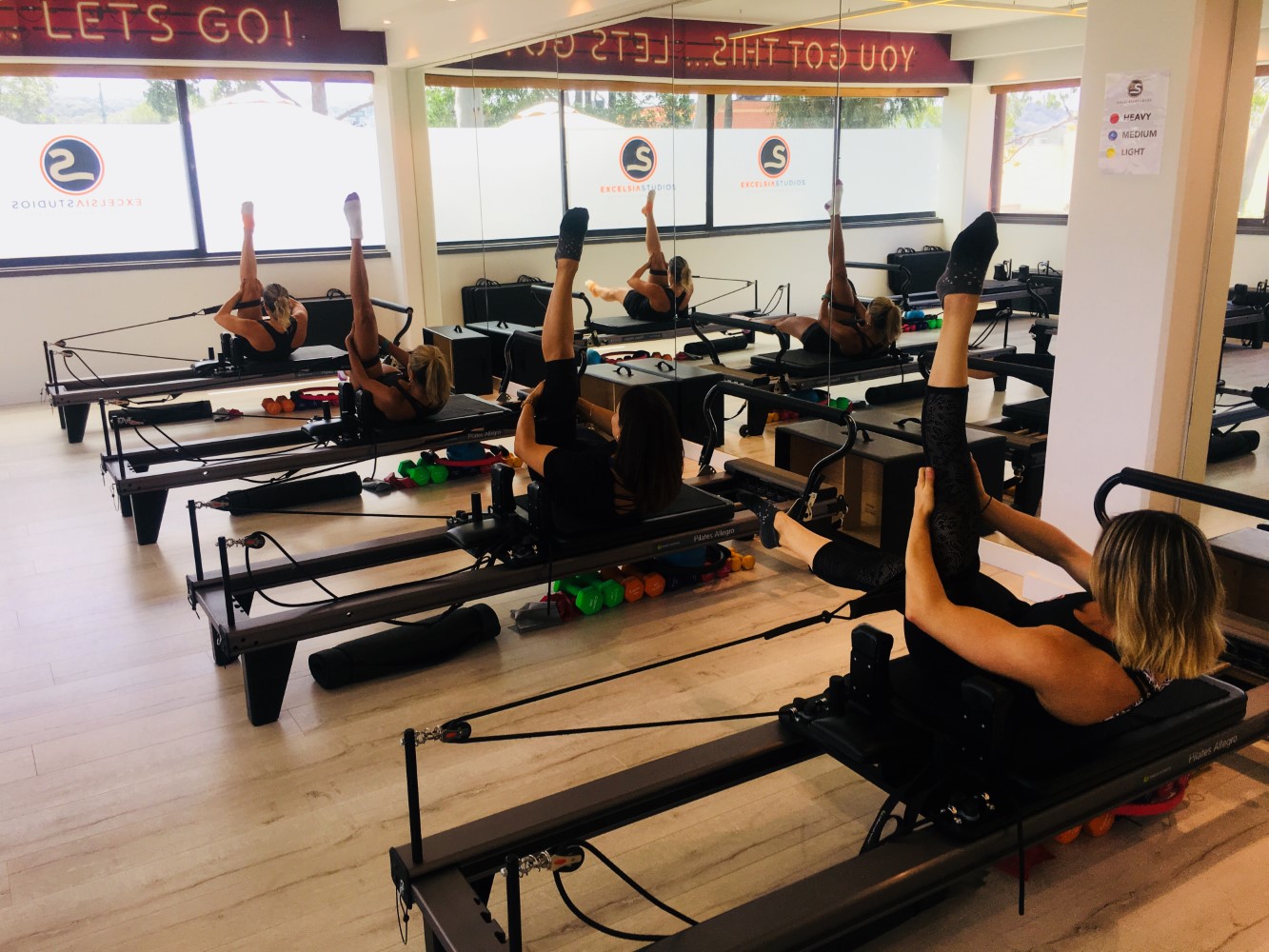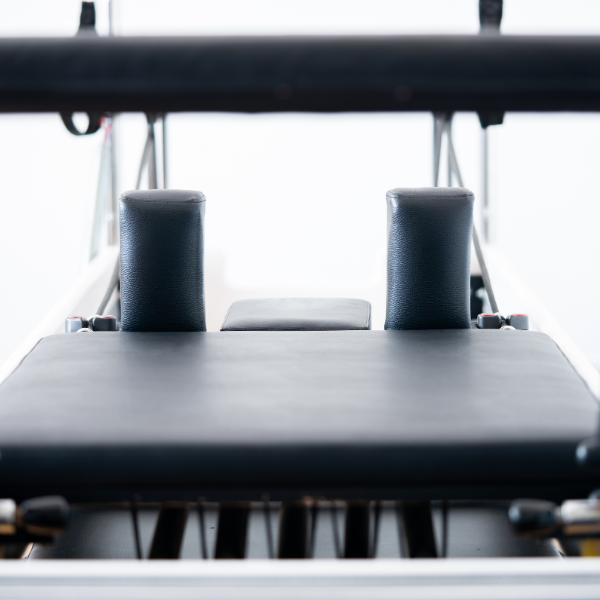 The Reformer as it is commonly known, is the most famous piece of Pilates equipment.
The frame, called the 'carriage', moves around on wheels and is attached to one end by a set of springs. It is these springs that provide resistance as the platform is moved. There is also a footbar and long straps, which can be used by the legs and arms, and shoulder blocks for stopping the user falling off when working out.
The reformer machine can be used in many ways to benefit strength, flexibility and balance. The majority of the exercises involve pushing or pulling the platform against the spring resistance and controlling the movement back, or holding it in place. This can be done by either sitting, standing, upside down and using all the different elements of the reformer.
You can do a lot more using the reformer machine than you can on the mat. The reformer can create resistance or instability, or both, to make exercises easier or harder in a way that the mat can't.
The Benefits of Reformer Pilates
Reformer Pilates is a perfect exercise class for all Central Coast residents. Any fitness level can benefit from a class at Excelsia Studios, from mums and bubs to older people and those with injuries. We have classes that will suit anyone. Reformer pilates helps you to build strength and fitness as well as tone muscles.
Reformer Pilates help you to:
Improve your strength – especially around your core, back, glutes and thighs.
Flexibility
Balance
Focus
Coordination
Posture
Body Alignment
Reformer Pilates strengthens your muscles through eccentric muscle contractions. Eccentric training, which reformer pilates comes under, involves doing this repeatedly.
As well as lowered blood pressure and improved cardiovascular health, it's particularly popular for people suffering from lower back pain and injury as it focuses on stabilising the muscles around the spine.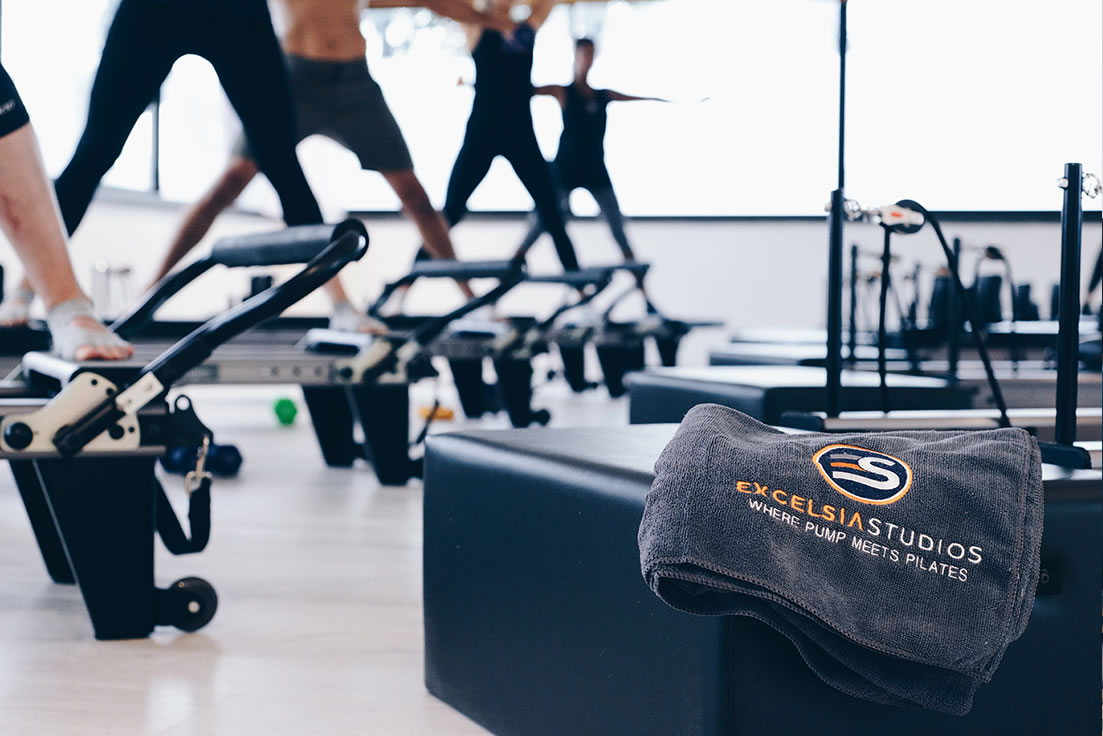 Reformer Pilates Classes Covering the Central Coast Region
Excelsia Studios runs classes for all Central Coast residents. Classes include mums and bubs, freestyle, Jump around, Pump it Up and many more. Contact Excelsia Studios today to book in for one of our classes.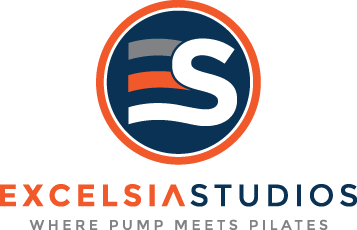 Alison
Arcadia vale
Avoca
Avoca Beach
Awaba
Bar Point
Bateau Bay
Bensville
Berkeley Vale
Blackwall
Blue Bay
Blue Haven
Booker Bay
Bouddi
Budgewoi
Budgewoi Peninsula
Buff Point
Bushells Ridge
Calga
Canton Beach
Cedar Brush Creek
Central Mangrove
Chain Valley Bay
Charmhaven
Cheero Point
Chittaway Bay
Chittaway Point
Cogra Bay
Colongra
Copacabana
Crangan Bay
Daleys Point
Daniel Island
DavistownToukley
Tuggerah
Tuggerawong
Tumbi Umbi
Umina Beach
Upper Mangrove
Wadalba
Wagstaffe
Wallarah
Wamberal
Warnervale
Watanobbi
Wendoree Park
West Gosford
Wondabyne
Woongarrah
Dooralong
Doyalson
Doyalson North
Durren Durren
East Gosford
Empire Bay
Erina
Erina Heights
Ettalong Beach
Forresters Beach
Fountaindale
Glenning Valley
Glenworth Valley
Gorokan
Gosford
Green Point
Greengrove
Gunderman
Gwandalan
Halekulani
Halloran
Hamlyn Terrace
Hardys Bay
Holgate
Horsfield Bay
Jilliby
Kangy Angy
Kanwal
Kariong
Kiar
Killarney Vale
Killcare
Killcare Heights
Kincumber
Kincumber South
Mooney Mooney Creek
Mount Elliot
Mount White
Narara
Niagara Park
Norah Head
Noraville
North Avoca
North Gosford
Ourimbah
Palm Grove
Palmdale
Patonga
Pearl Beach
Peats Ridge
Phegans Bay
Picketts Valley
Point Clare
Point Frederick
Pretty Beach
Ravensdale
Rocky Point
San Remo
Saratoga
Shelly Beach
Somersby
Spencer
Springfield
St Huberts Island
Summerland Point
Tacoma
Tacoma South
Tascott
Terrigal
The Entrance
The Entrance North
Toowoon Bay
Woy Woy
Woy Woy Bay
Wyee
Wyee Point
Wyoming
Wyong
Wyong Creek
Wyongah